Experts' predictions

Who will be the rookie of the year?
After a season that saw Carey Price lead the NHL with 58 starts, Marc Bergevin did not wait to acquire reinforcement for his star player. The Stanley Cup final hadn't even started yet when he acquired Jake Allen from the Saint Louis Blues. CH have now invested nearly $ 15 million in net for the 2021 season.
Allen will try to do what Keith Kinkaid was hoping for last year, which is to offer quality starts at the CH and lighten Price's workload. At 33, Price is not getting any younger and fatigue obviously affects him more than in his twenties. The playoffs have proven what a rested Price can do.
Obviously, I don't expect him to be able to maintain this pace of play for an entire season, but it still shows the potential that a Price in great shape. And with the condensed season that includes 9 two-game streaks over two nights, an auxiliary goaltender Claude Julien can count on will be more important than ever. Allen has had some ups and downs as a starter in the NHL, but he has had personal highs in goals against average (2.15) and save rate (.927) in 21 starts as an assistant to Jordan Binnington this season. last.
The three CH auxiliaries posted a combined 4-6-3 record in 13 starts last year. If Allen can offer 15 to 20 starts and win half of it, a fairly reasonable expectation, it will already be progress for Montreal. This would lighten Price's workload considerably and keep him in shape for crucial end-of-season games and possibly the playoffs.
Can Toffoli and Anderson help the CH attack to climb to the top-10?
Last year CH were 7th in scoring chances per game, but they struggled to capitalize, finishing 19th in goals scored. Bergevin addressed the problem with the acquisition of two wing scorers: Tyler Toffoli and Josh Anderson.
Of the two wingers, Toffoli is the closest to a safe bet. He has scored 20 or more goals in 4 of the last 6 seasons. He missed the field in 2016-17 with injuries, but was scoring at a rate that would have given him 20 goals in a full season. The 2018-19 season was tough with just 13 goals, but his shooting percentage was abnormally low at 5.8%, while he never fell below 9.6% for the rest of his career.
Plus, looking at his expected goals, a formula that calculates how many goals a player should get depending on the quantity and quality of shots he takes, Toffoli still performed as a 20-goal scorer. Combined with a return to form in 2019-2020, everything seems to indicate that 2018-2019 was an anomaly for the 28-year-old winger and that he will continue his momentum in the CH roster.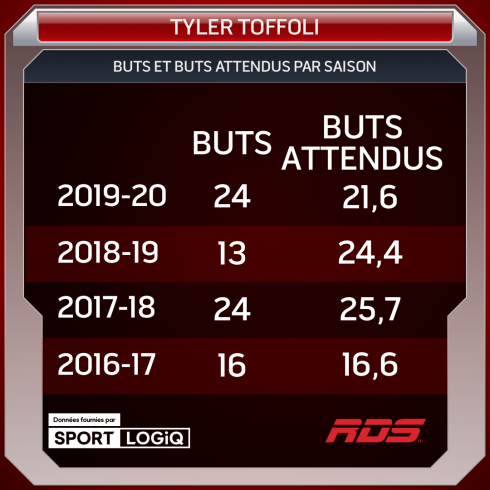 *Our expected goals statistics are not available for seasons prior to 2016-2017
Toffoli has proven himself in the NHL over the past five years, but that's not the case for Josh Anderson, who only has a 20-goal season on his record. Despite this reduced sample, Bergevin decided to go find the 26-year-old striker and offer him a 7-year contract after a season of misery. Anderson only played 26 games last year, scoring a meager 4 points, including just one goal. Even when he was on the ice, it was clear he was not 100%. Bergevin clearly made the acquisition with his performance of 27 goals in 2018-2019 in the lead.
This season, Anderson stood out with a unique combination of speed, power, and an ability to capitalize on his chances. The 6-foot-3 winger was one of 4 players to score at least 20 goals and hand out at least 200 hits, a club that only includes Tom Wilson, Alexander Ovechkin and Blake Coleman. He also demonstrated his skating with 75 chances to score on entry, 15th in the NHL, surprising for a player of his size.
If the CH has acquired this version of Anderson, it offers Julien a powerful striker like no other in the Montreal lineup. On the other hand, if he continues to be plagued by injuries or can't seem to find his rhythm, his contract could quickly become one of the worst in the NHL.
Will Suzuki and Kotkaniemi be able to build on their performance in the playoffs?
Much of the success of CH this season will depend on the progress of Nick Suzuki and Jesperi Kotkaniemi, who will almost certainly occupy the roles of 2nd and 3rd centers for Julien. Both players spent most of last season at the bottom of the Canadiens roster. The 5 players Suzuki has spent the most time with are Max Domi, Joel Armia, Artturi Lehkonen, Cousins ​​and Ilya Kovalchuk, while Kotkaniemi has mostly played with Lehkonen, Armia, Cousins, Drouin and Jordan Weal. Kotkaniemi also finished the season in the American League, where he impressed with 13 points (1 goal and 12 assists) in as many games.
Things changed during the playoffs though. Suzuki replaced Phillip Danault on the opening line, playing with Brendan Gallagher and Tomas Tatar for nearly 50 minutes and he did not disappoint, ranking among the Canadiens' best players in several important offensive categories, in addition to leading the club. with 7 points in 10 games, equally with Drouin.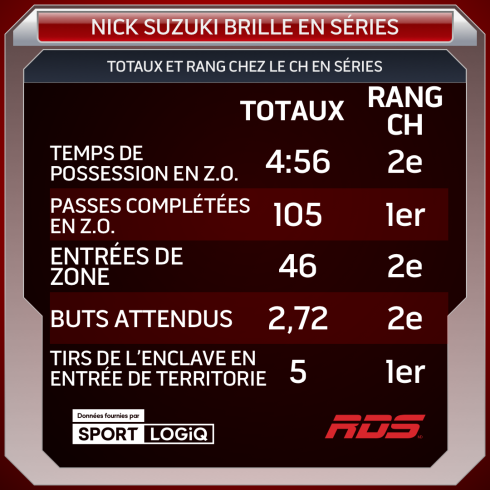 His 4 goals also placed him tied for top scorers for Montreal, nose to nose with Kotkaniemi. The young Finn has also seen more offensive responsibilities, playing mainly with Drouin and one of Armia or Domi. The two young centers have demonstrated their potential in the spotlight and now represent more than the future of the CH at the center, they are also the present. According to the lines seen during practice on Tuesday, Suzuki will play with Anderson and Drouin, while Kotkaniemi will be surrounded by Toffoli and Armia. Julien is clearly counting on their talent to propel the CH this season and Bergevin provided reinforcements during the offseason to support them. Will they live up to expectations?
Tyler Toffoli, a guy who loves traffic!
[ source link ]
https://www.rds.ca/hockey/canadiens/chronique-de-billy-bertrand-trois-questions-sur-le-canadien-a-l-aube-de-la-saison-1.9481969
#Column #Billy #Bertrand #questions #Canadian #dawn #season