#In a peer-reviewed publication, #Moderna's vaccine against #Covid-19 disease is 94% effective.
The #Phase 3 clinical trial of #Moderna's vaccine against the SARS-CoV-2 coronavirus is based on 30,420 volunteers. They are divided into two groups (of 15,210 participants each): a placebo group; a vaccinated group. The results of this study have just been published on #December 30, 2020, after having been examined by an independent committee (peer-reviewed), in the #New #England #Journal of #Medicine (NEJM).
The publication shows that #Moderna's vaccine, based on messenger RNA, achieves a final efficacy of 94.1%. #This result is very close to that of #Pfizer (95%), also based on mRNA and which is already generalized in several countries around the world, including #France.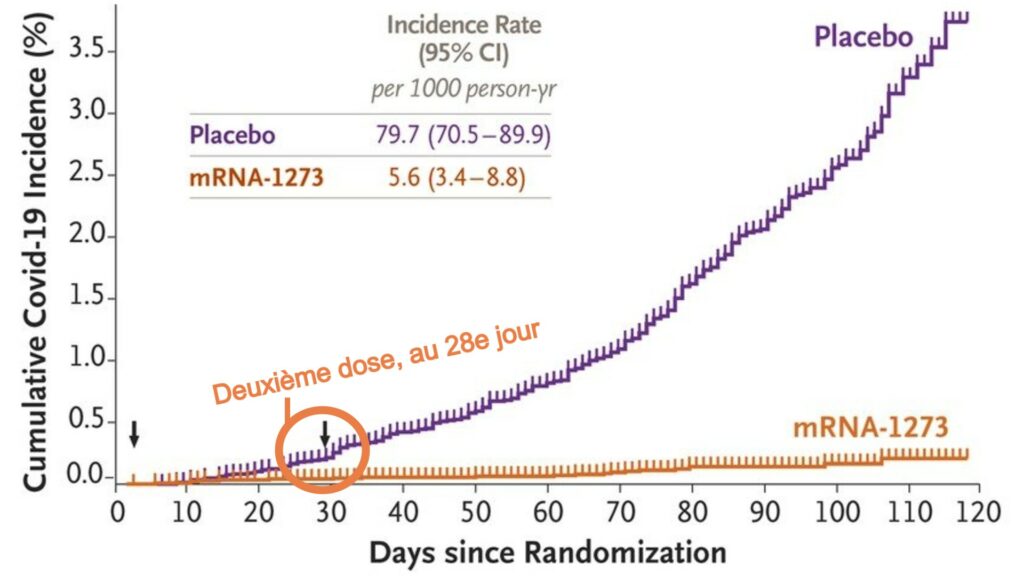 #More than 14 days after the second dose – performed 28 days after the first and needed for the vaccine to take full effect – researchers recorded 196 cases of coronavirus infection among the 40,000 participants. #Of these 196 cases, 185 occurred in the placebo group (non-vaccinated), and 11 in the vaccinated group. The incidence rate is much lower in the vaccinated group, which proves a high efficacy of #Moderna's vaccine against the occurrence of #Covid-19 disease in symptomatic form.
#Regarding asymptomatic transmission, like #Pfizer's vaccine, #Moderna's results do not yet allow a strict conclusion to be reached. #However, " preliminary trial data suggest that there may be some degree of prevention of asymptomatic infection after a single dose "#Notes the #National #Institute of #Health. #Specific analyzes are underway on this effect of vaccines.
#No noticeable side effects
#Among the cases of infection that occurred in the vaccinated group, no participant did not face severe forms of the #Covid-19 disease. #Moderna's vaccine therefore appears to protect against severe symptoms, even if infection develops in these few cases.
#Moderna's publication in theENJM furthermore shows that there are no significant side effects, apart from those usual and foreseen by the authors. #About 50% of the vaccinated volunteers experienced moderate or severe side effects (fatigue, muscle pain, migraine, pain at the injection site) after the second dose, but these effects, classic for a vaccine, were generally resolved. within two days after the injection.
#In the #United #States, the vaccination campaign began in mid-December and #Moderna's vaccine was quickly validated – #Kamala #Harris, future vice-president, recently received it to reassure the population. The #European #Union plans to postpone its decision on this vaccine on #January 6, 2021. #In anticipation, 80 million doses have been secured, thus making it possible to vaccinate 40 million people.
The continuation in video
[ source link ]
https://www.numerama.com/sciences/679262-les-resultats-de-la-phase-3-du-vaccin-de-moderna-montrent-son-efficacite.html
##Modernas ##Phase ##Vaccine ##Results ##Show ##Effectiveness